Rotary Club of Old Fort
We invite you to bid on or purchase a professionally designed and decorated tree during the Rotary Club of Old Fort (RCOF) 1st Annual Christmas Tree and Wreath Auction from (Nov 27 - Dec 8th).  This initiative is intended to be a fundraiser for RCOF and the various community and charitable initiatives that we do to make a difference and deliver on our motto of "Service Above Self".

Some of our current and future initiatives and projects include (but are not limited to):·        

Sandilands Rehabilitation Center Greenhouse Project
Recycling Project for Western Schools
Sponsorship of students for Rotary Youth Leadership Awards - open to primary and high school students
Beautification project of Downtown Bay Street
The Rotary Club of Old Fort (RCOF) has installed a new administration with lawyer and banker, Tameika Watson becoming its first female president. She will serve for the rotary year 2016-2017.
The new administration will focus on selfless service in its surrounding community by continuing the Club's work with Great Commission Ministries. In the last quarter of the Rotary year 2015-2016, RCOF funded and installed two outdoor showering systems.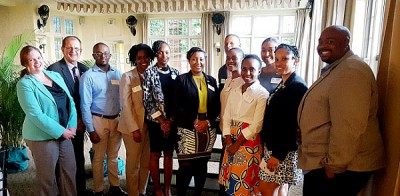 Tameika Watson becoming its first female president.
In this new Rotary year, RCOF will seek to establish new partnerships to further its community service outreach programmes, while continuing to collaborate with The Children's Emergency Hostel, Gambier Primary School, S.H.A.R.E. (at the Lyford Cay School) and The Bahamas Red Cross.
"As a global network of volunteer leaders, our club is prepared to adhere to our international theme, 'Rotary Serving Humanity'. President Tameika has pledged that RCOF will "actively participate in projects that address social ills and voids in our community. She added "Rotary prides itself on Rotarians being the change they wish to see in the world."

Rotary Club of Old Fort

Rotary Club of Old Fort

Rotary Club of Old Fort

Rotary Club of Old Fort

Rotary Club of Old Fort

Rotary Club of Old Fort